Google Fred update and recovery
Google Fred Update Targets Ad Heavy, Low Value Content Sites
starts this march 2017. Although Google has not yet confirmed anything ( John Mueller has simply said that they make many changes daily), the last update of his algorithm occurred in early February
If your site has high ads, low-quality content and backlinks means, then it will affect check your webmaster tools if there is any message come, then you will do further..!
You can do it White hat techniques! Maintain own blog, guest posting, PR, etc
Use Google trends for latest updates, SEO related topics or keywords…
• You can target region wise classified (Like Local SEO)
• Build more PBN, web 2.0, blog comment & profile links
• Tiered Link-Building: To the main site, tier 1 & tier 2 sites
• You can reach on Social Signals
• Buying Links: 80% determinant of your Google ranking (Like Guest Outreach & Authority Outreach.!)
The updates from Google major search engines help the online marketers to match up with the current trends and effectively market on the online medium. update majorly targeted low value content sites, irrelevant and spammy backlinks that conflicts with website's content
Some people dispute Barry's hypothesis and insist the traffic losses they saw must be connected to low quality link building
the major impact the low-valued content sites aimed at revenue generation over the goal of helping their users and readers
in our view this update will effect website that use anchor text backlink more than 20% same and more ads on website
Sites having links of sitewide nature were hurt
Sites having sape links are out of game on a major scale
Site with PBN links but with contextual nature are out of context
Sites with poor silo structure and content slightly lost some rankings but not as bad as others
Sites with good highly relevant links are benefited
Sites with quality content got minor benefits but not a lot.
Sites having links from ranked pages has the maximum advantage.
Site age not a thing that it followed.
It is still gradually rolling so probably something that can become a part of real-time Algo but it's an assumption in the basis of continuous dance in rankings.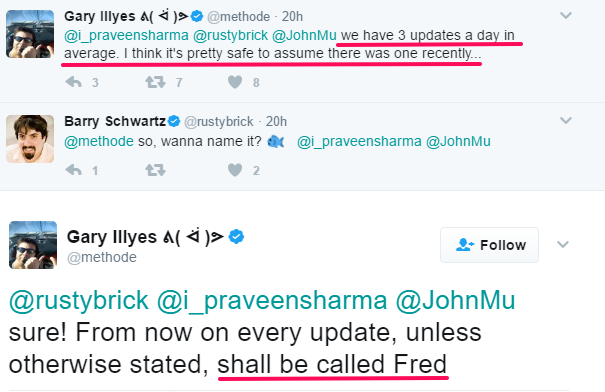 What should you do about 'Google Fred'?
if your planning on making technical SEO or content enhancements to your site, do them now and submit the new pages to Google immediately
stop any link-building activity now
monitor your rankings and your competitors rankings over the next few days; don't panic, expect fluctuations
Google thinks the content must be long enough to rank well in search engines.
If we make long enough content, Google monetization (AdSense) only allowed three ads in a page. Honestly, articles without ads I find missing salt in chicken curry :), jokes apart, but they truly look ugly. I believe content page with more than 1000 words should have 3 AdSense ads and 2 additional 3rd party ads
Here are public sample sites that were potentially hit by Fred.
http://electrical-engineering-portal.com via public source
http://europeforvisitors.com/ via public source
http://lookingformaps.com/ via public source
https://fullforminhindi.blogspot.com/" via public source
http://entrancegeek.com/ via public source
https://www.thefactsite.com/ via public source
http://www.makeoverarena.com/ via public source
http://gmposts.com/ via public source
http://www.kyahotahai.com/ via public source
http://www.easydiyandcrafts.com/ via public source
http://www.tricksforums.org/ via public source
http://www.caesefilhotes.com.br/ via public source
https://f1comp.ru/ via public source
http://www.faadooengineers.com/ via public source
http://www.irmoviedl.ir/ via public source
http://dethikiemtra.com/ via public source
http://championsofmen.com/ via public source
https://thetechterminus.com/ via public source
http://1birthdaygreetings.com/ via public source
http://www.thestylishtube.com/ via public source.
---
I have a content website and I use 1 affiliate link in each page.
I took a hit with the Google Fred update on almost all my branded 1 word queries.
My keyword density was 4% (due to the menu's in WordPress), I removed them and I'm now down to 2.5%.
I will continue to work to get it down to 1%.
My question is… How long does it take to see changes?
And also… Besides kw density links are still important.
How do I get quality backlinks? (this is a serious question for all the wise people in this thread ?
Fred was not related to onsite densities. Fred was a Penguin style update, not a Panda style one.
And if you are asking where to get quality links, then I believe we already know why your site got hit. And quality links, well, you either build them yourself or you try to get them. Build you own PBNs, do an outreach for guest posts or buy some (at your own risk) PBN links here in the marketplace.